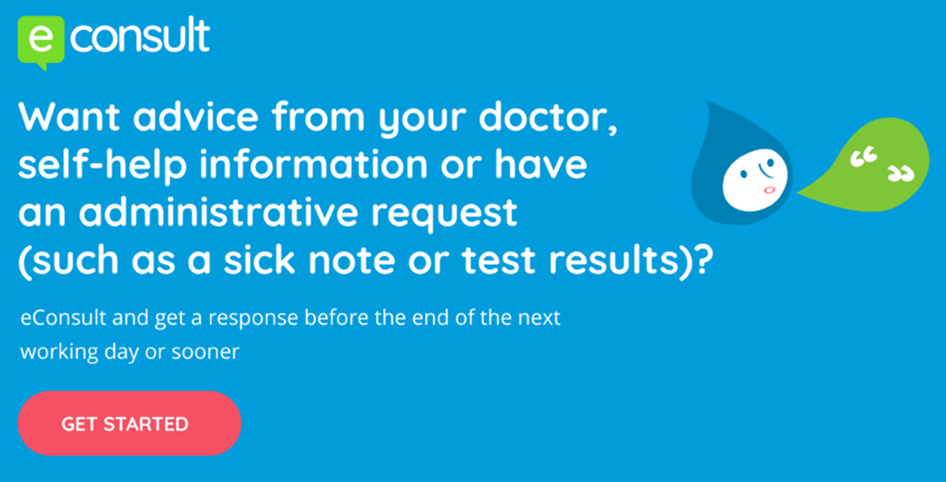 eConsult
Click on the image opposite to fill out a simple online form to get advice and treatment.
e-Consults are available 8.00am - 6.30pm Monday - Friday and are for non-urgent medical queries. We will respond to your query within 5 working days, please disregard the timescale stated by e-Consult.
If your query is urgent and cannot wait 5 working days for a response, please contact the surgery.
Please note that any digital image submitted as part of an online consultation, will be stored within your clinical notes.
Changes to the Car Park
PLEASE NOTE:
Following patient feedback, we have taken steps to restrict our on-site parking to those visiting the surgery or adjoining pharmacy.
The new car parking system therefore allows patients and visitors to either Woolston Lodge or Lloyds Pharmacy to park for up to 90 minutes. You do not have to submit your vehicle registration number to use the car park, but will incur charges if this limit is exceeded.
Please see the signage in the car park itself or speak to reception if you would like any further information.
Welcome
We are confident that our website will provide clear and concise help and give our patients the information they require in an easy and convenient format. It has been designed with the patient's needs at the forefront of everything, from checking surgery times to letting us know what you think of us.
Our dedicated team are here to treat those minor ailments that occur as well as providing specialist management of long-term conditions and clinics covering a wide range of healthcare issues. The technology also means you can now do a lot of things from the comfort of your home such as order a repeat prescription or manage your appointments.
We're improving how we communicate with patients. If you would like information in an alternative format, for example large print or easy read, or if you need help communicating with us, for example because you use British Sign Language, please let us know. You can call us on (023) 8044 6733 or come in and speak to the receptionist.
Coronavirus (COVID-19)
A Message to our Patients:
Due to the COVID-19 global pandemic we have made significant changes to the way we provide our service. Please help us to continue providing a safe service by following the guidance below. By doing so you are enabling us to focus on helping the sickest and most vulnerable patients. We thank you for your understanding and patience at this time.
What can you do to help?
Do NOT attend the practice if you have a new cough or fever. If you do so, you are putting our staff and vulnerable patients at risk and it may mean that staff are unable to continue working.
Try to avoid phoning the surgery unless you have an urgent issue that cannot be dealt with by alternative means. Our phone lines are currently overwhelmed and we need to free up the lines for those who are unwell and in need of urgent help.
Download the NHS App. You can use this to order repeat prescriptions, look at test results and access the online symptom checker.
Use e-consult. If you have a non urgent issue such as a medication query or sick note request please complete an e-consult request.
IMPORTANT MESSAGE FOR PARENTS:
It is really important to realise that not every unwell child has COVID-19. All the usual illnesses that can make children unwell still remain and we have been made aware of cases where parents have delayed seeking medical attention due to concerns about COVID-19. Remember that NHS 111, GPs and hospitals are still providing the same safe care they have always done.
If your child is unwell, please seek help by contacting the surgery by phone in the usual way. If your child is severely unwell, call 999 or take them to the nearest emergency department. Unsure about whether your child needs to be seen? Take a look at the Wessex Healthier Together website.
All Visiting the surgery
Please do NOT visit the surgery unless you have been asked to by a member of our team.
Our front doors are currently shut to minimise footfall in the surgery - we are not closed. If you have been asked to come to the surgery please press the buzzer and a member of the team will provide further instructions which may include asking you to wait in your car until your appointment.
Phoning the surgery
Please try to avoid phoning the surgery unless you have an issue that cannot be dealt with using alternative means. Please note that we DO NOT take prescription requests over the telephone. These can be requested via the online form here.
If you do need to speak to us, phone the surgery in the usual way and describe the problem accurately to the receptionist. They will then add you to a telephone list for a call back from a doctor. Please then ensure you are available to be contacted by phone as we have a high volume of calls and may not always be able to call you back if you do not answer.
REMEMBER: if you are unwell with a significant illness such as finding a breast lump you should still ask for help by phoning us. Do not ignore important symptoms.
Appointments
If you are asked to come in for a face to face appointment, please be advised that you must wear a face covering whilst in the surgery and please do not arrive more than 10 minutes before the start of your appointment so that we can ensure social distancing within the waiting room.
E-consults (online consultation)
If you are seeking help for a non urgent issue such as a medication query or for blood test results please complete an e-Consult request. The team will reply to you within 2 working days. To begin an e-Consultation, click here.
Sick notes
Please complete an e-consult request specifying dates and reason for requesting the sick note.
Isolation notice
If you have been told to stay at home because of COVID-19 and need a note for your employer, you do not need a medical certificate (sick note), instead you may request an isolation note. Click on the link to request this https://111.nhs.uk/isolation-note/
Medication
For repeat medication requests, please download the NHS App and complete the registration process. You can then order medication on your mobile phone or tablet. https://www.nhs.uk/apps-library/nhs-app/
Please DO NOT stockpile medication or request more medication than you normally need. There is also no need to request medication earlier than you would normally.
There is lots of information on Coronavirus (Covid-19) and other health issues available on the NHS App and NHS online https://www.nhs.uk/
PLEASE HELP US BY USING THESE ALTERNATIVE RESOURCES WHERE POSSIBLE
To view a list of our most frequently asked questions concerning the Coronavirus (COVID-19) outbreak, please click here
For more useful resourses, please click here.
Register for Online Services
Our practice now offers a wide range of services through our website, register to gain access
Keep up to date with the latest practice news
Newsletter
To receive future editions of the newsletter straight to your inbox sign up below.